You're a creator or simply creative, you have any ideas for customizing dice? Here are more details on what we can do for the moment!
If we don't yet meet your needs, feel free contacting us by sending a short email or by calling us directly : We are very flexible and we have plenty of solutions to offer!
Size weight
We currently have 4 models of 6-sided dice to offer: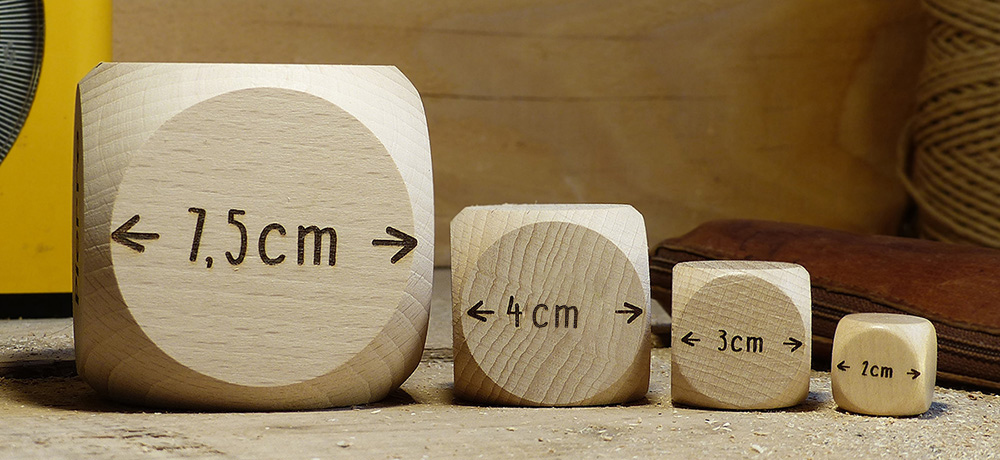 – The 2 cm dice (8 grams) are quite suitable for creating board games. Even if classic dice are 1.5 cm, the 2 cm dice leave more room for customization and fulfill their roles perfectly.
– The 3 cm dice (15 grams) are the ones we prefer, because in the best balance: Compact, practical to play on a table and large enough to put a lot of details.
– The 4 cm (60 grams) dice offer much more room for customization and can be used as an original support without needing to be a dice to play. They are ideal to make a gift or to be used in groups.
– The 7.5 cm dice (275 grams) can be used as a decorative object and will be perfectly suited to games in large groups outdoors or directly on the ground!
Content & Shape
We take the side of offering the purest dice possible.
By default, our dice are without reflection, without varnish, without paint : All our dice are therefore unique by the grain of the wood and their imperfections. We chose beech wood because it's very light, it offers maximum contrast with the dark engraving.
Our wood comes from Franche-Comté : East of France from a "Sustainable Management" certified forest, where for each tree cuted, a tree is replanted.
We can also offer you cubic dice of 2cm and 3cm, (not yet present in the shop but it won't be long!) Do not hesitate to contact us directly if this is what you need!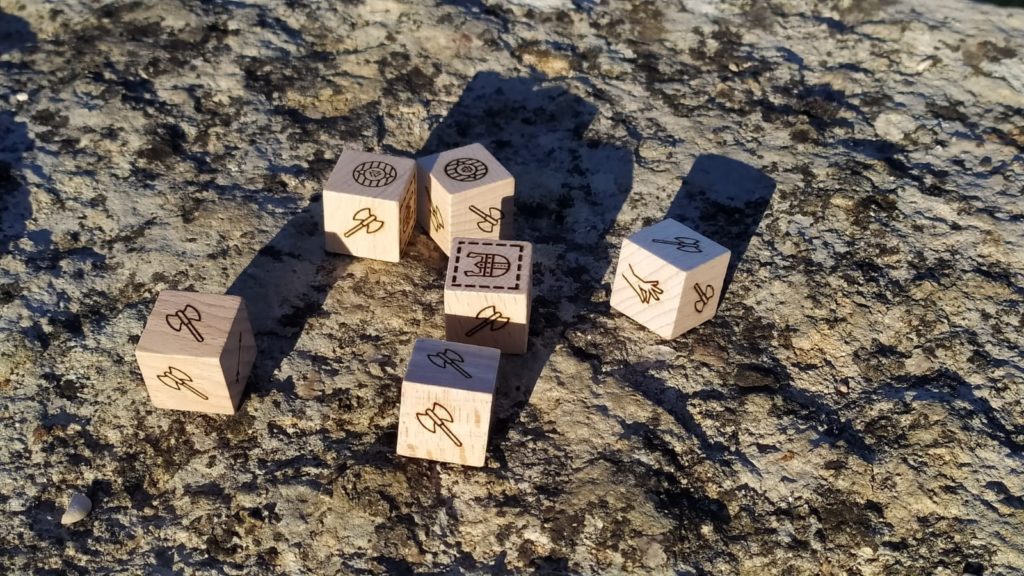 Polyhedral dice?

During spring in 2021 we tried making custom dice with more than 6 sides: 4-sided, 8-sided, 10-sided, 12-sided and even 20-sided dice. 
We have therefore launched a Kickstarter and designed a whole plan to set our prices at the lowest. However, our goal was not achieved and we were unable to invest in new machines/software. So, unfortunately for the moment, dice with a number of faces customizable are unfortunately postponed… for the moment!
If you want to know more about our adventure on Kickstarter, I invite you to follow the link: https://kickstarter.com/projects/alea-jacta-est/fully-customizable-roleplay-dice
Anyway, we keep this idea in mind and we keep your requests aside, we are looking for other funding opportunities to move forward in this direction.

Do not hesitate to follow us on Instagram, you will be kept informed 🙂
Colors
We do not offer color marking or color dice for the moment :/ 
However, we can offer you graphic tips for distinguishing two dice, for example: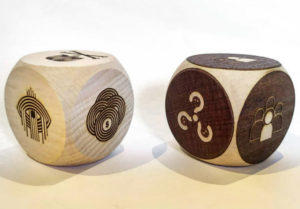 Marking & design
All your engraving ideas are welcome!
If you can't decide, if you have a doubt or if you have an idea but you don't know how to realize it, feel free to contact us by email or by phone 🙂
Add your own visuals
You can now add your images automatically so anything is possible! Preferably send us images in .jpg/.png or .svg but we obviously accept all formats!
For more details on the resources to provide to us:
– Our dice offer you round faces but you are free to offer us designs that protrude on the inclined parts.
– Shades of gray will not be taken into account, we only engrave dark gray/black pixels.
– Our pyrography technique allows an accuracy of 250dpi.
A classic printer offers ~300dpi, so we are relatively precise, but we must expect that the black areas will overflow a little and the non-engraved areas may therefore be cropped.
Here, some examples of engravings from left to right, on 4.3cm, 3cm and 2cm dice: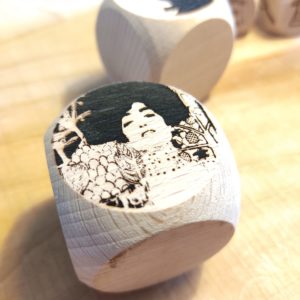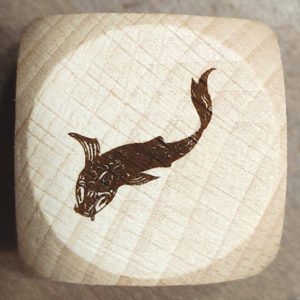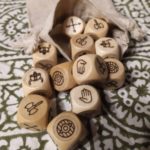 We can do free tests and send you photos if you have any doubts about your design.
Need visuals / graphics / personalized image?
Depending on the precision of the request, its complexity, Thibault can offer you design and graphic design services. He has indeed already worked as a graphic designer at Ubisoft, Crédit Agricole, Page Jaune, Moulinex, Haagen Dazs, Alea Jacta Est… you can trust him!
Decreasing prices
Whether you are a professional or an individual, we offer decreasing prices from 2 dice, and up to -85% for 100,000 units! To consult our prices, enter directly into our customization module the number of dice as well as the models you want, the price calculation is automatic.
The choice of visual and text has no impact on our prices.
Excl. tax / Incl. tax / VAT
For the moment, we only offer prices including VAT, even to our professional partners. We operate under the status of auto-entrepreneur and we are thus for the moment exempt from VAT.
Emballage
By default, we do not use any special packaging to avoid filling your bins with plastic bags or boxes that have not really been used. We simply put the dice in thick envelopes or in parcels for shipping: our envelopes are made of recycled cardboard and our parcels are mainly parcels or boxes received that we reuse.
As our dice are often offered as gifts, we can provide linen bags at 1€ each. No matter the size, you can directly add them to your basket!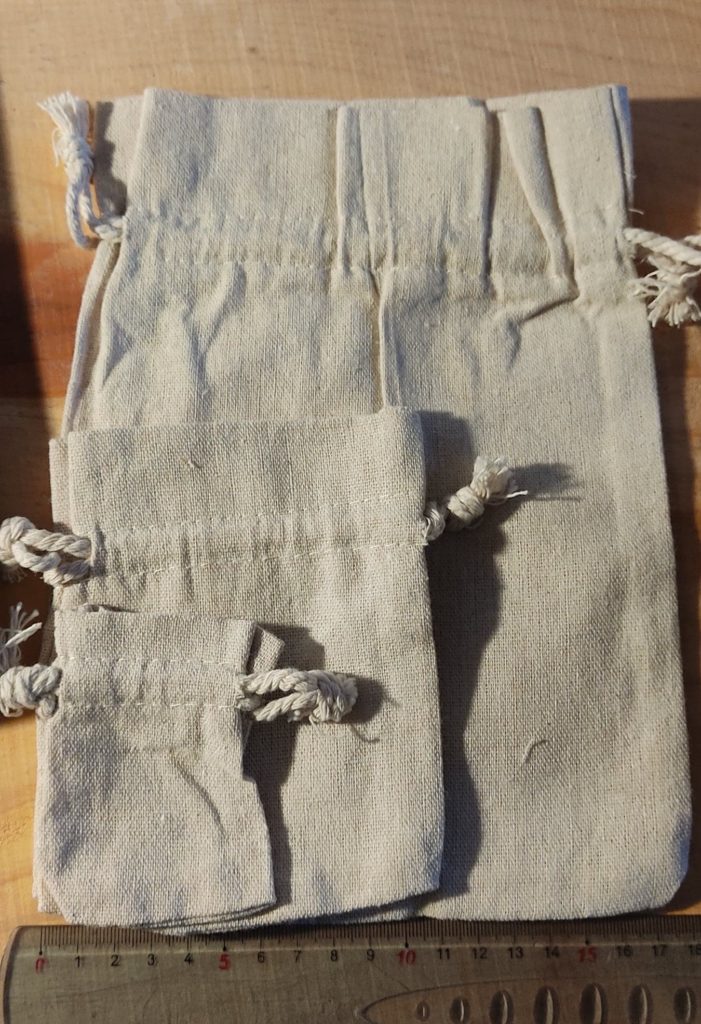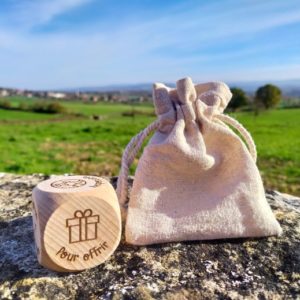 To hold all of our dice sizes, we have three types of bags:
Our small bags can contain up to 4 dice of 2cm or 1 dice of 3cm
Our medium bags can contain up to 15 dice of 2cm or 5 dice of 3cm or 2 dice of 4.3cm
Our large bags can hold up to 9 dice of 4.3cm or 2 dice of 7.5cm
Delivery
We deliver worldwide!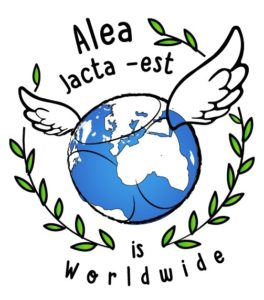 The prices are calculated automatically as soon as the delivery address is indicated.
Life's a game !
Much more than creating a personalized dice, create a game in your image. The game is not a medium like any other. Interactive, playful, innocent but not totally: put the odds on your side and place your bets!
Are you the type to win every time? To trust in chance? What are the pledges that would trap future players? What rewards would they like? What kinds of decisions will the dice have to make?
Anyway, at Alea Jacta Est, we are not limited to dice, but will soon be offering personalized wooden counters, personalized wooden trays, and always "made in France"!
For the moment, describe your projects to us, we will give you our prices!